Beyond Social Media Show, Episode 295
BL and David discuss "Cry Me A Cockroach" vindictive Valentines via San Antonio Zoo; social media savvy Astronaut Christina returns to earth; Seventh Generation's brilliant State of the Union ad; Spotify's podcast expansion; flirting with Tinder bots; how Netflix gets to the Oscars; Twitter squashes student's parody, then apologizes; Planters Baby Nut banned; best and worst Super Bowl LIV ads; the Iowa Caucus debacle; hacking Google Maps; world's worst job ad and world's funniest resume; Clearview AI slapped with cease-and-decists; Celebrity Cruises' clueless commercial; 2020 election disinformation wars; Edelman Trust Barometer…and much, much more.
SUBSCRIBE: iTunes or Google Play or Stitcher or iHeart Radio or Amazon Echo or search the Spotify app. Your browser does not support the audio element.
Best Digital Cases
#AstronautChristina Returns to Earth
Christina Koch @AstronautChristina landed safely on earth after completing 328 days in space – the longest single spaceflight by a woman.
Flirting At Scale
How to automate your love life.
7th Generation Wins State of the Union
Seven Generation bought 60-second ads on ABC, CBS and NBC between the State of the Union address and the Democratic response, laying out the brand's outlook on climate change – which wasn't mentioned in the speech.
Cry Me A Cockroach
The San Antonio zoo is hosting its first-ever "Cry me a Cockroach" event where you can take revenge on your ex.
Hacking Google Maps
99 second hand smartphones were transported in a handcart by performance artist SImon Weckert to generate virtual traffic jam in Google Maps.
Burger King Breakup Boxes
Burger King — along with the new Harley Quinn movie, Birds of Prey — has an upcoming Valentine's Day promotion: Basically, if you show a photo of your ex at select Burger King locations, you get a free Whopper.
Good News For Podcasts
Spotify has purchased The Ringer, the podcast network started by Bill Simmons
Netflix' Oscars Push
Netflix leased and reopened New York's Paris Theater in a push to highlight Netflix Originals and qualify for Oscar nominations.
The Super Co-Op Bowl
Baby Nut was born from tears of corporate sibling Kool-Aid as Procter & Gamble's Mr. Clean looked on at funeral.
Worst Digital Cases
Twitter Caves to College
In an unprecedented move, Twitter took away a college student's access to his parody account mocking his school and handed it over to the university's administrators.
Stop Clearview AI
Clearview AI, a controversial face recognition start-up, whose customers include hundreds of U.S. law enforcement agencies, including the FBI, has been served cease-and-desist letters by Google and its subsidiary YouTube.
Planters Ham Handed Baby Nut Tweets Banned
Twitter suspended three meme accounts launched by Planters to promote their re-incarnated Mr. Peanut mascot, dubbed Baby Nut.
Celebrity Cruise's Acid Trip
White Rabbit by Jefferson Airplane as the theme music for a cruise line?!?
World's Worst Job?
Shadow, the company whose app was blamed for screwing up the Iowa Caucus posted a job ad the next morning for a salesperson.

Worst Super Bowl Ads
According to USA Today's Ad Meter, which lets the public rank Super Bowl ads online, using a scale of 1 to 10.
World's Worst Resume
This guy had a very bad year.
Shiny New Stuff
Google Search Console
Learn the A-B-Cs of Google Search Console with this training series.
Politics
Information Weaponized
How new technologies and techniques pioneered by dictators will shape the 2020 election.
The Daily Numbers
Edelman's annual global trust barometer released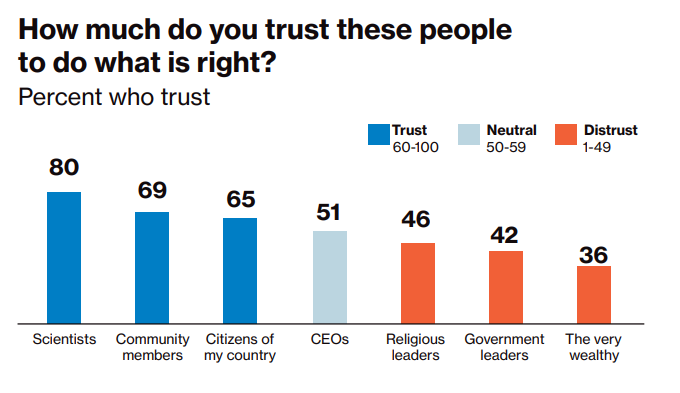 Beyond Social Media Hosts
Beyond Social Media Show
Podcast: Play in new window | Download