Smell-O-Vision & A Bacon Vending Machine
Beyond Social Media Show, Episode 252
BL and David discuss a bacon machine in time for finals; the return of Smell-O-Vision; smart devices spying; new navigation for audio news; a hamburger takeover on Reddit; soundtrack glasses; Grittymania; new free courses from Google; a Chanukah Ooops! the Facebook brain drain; a Quora breach you need to do something about; Pro marketing tips from David; Pro writing tips from B.L. …and much, much more.
SUBSCRIBE: iTunes or Google Play or Stitcher or iHeart Radio or Amazon Echo or search the Spotify app. Your browser does not support the audio element.
Best Digital Cases
Bacon Machine
Just in time for finals, The Ohio Pork Council just installed a bacon vending machine in the Animal Science Building at the Ohio State University College of Food, Agricultural, and Environmental Sciences.
Return Of Smell-O-Vision
General Mills revives experience of smelling what's on the screen.
Privacy Not Included
Mozilla just rolled out its second annual "Privacy Not Included" guide, which now includes reviews for 70 Internet-connected devices.

Navigating Audio News
News on smart speakers is not living up to the promise of what it could be.
Reddit Hamburger Takeover
To celebrate the birthday of the inventor of the "hamburger menu," the three-bar icon on websites that shows a navigation drop-down when clicked, McDonald's did a brand takeover of Reddit.
Audio Glasses
Bose is set to release a sunglasses collection with each pair having Bose speakers built-in for music playback and a microphone so you can make calls hands and ear-free.
Gritty.Con is Coming!
Disclaimer: This event should not even be taking place, but in the spirit of Gritty, it will anyway.

Free Google Courses
Google has announced a range of additions to the free courses it offers as part of its Google Digital Garage education initiative, while it's also added official certification to help add additional weight to the training.
Worst Digital Cases
A Chanukah Ooops!
In a Chanukah message, the Catholic News Agency, which covers the Catholic church, mistakenly tweeted a picture of the Arch of Titus which celebrates the Roman conquest of Jerusalem in 70 C.E., and later apologized.
Facebook Brain Drain
Some former Facebook employees say their phone is ringing a lot more in the last two months. On the other line: former Facebook colleagues asking about job openings or looking for a reference.
There's a lot of unhappiness surrounding Zuckerberg and Sandberg, says NYTimes' Confessore from CNBC.
Your Answers…Stolen
Hot on the heels of the Marriott International hotel group breach that impacted half a billion users, the question and answer site has confirmed that its systems have been hacked leaving account and user information potentially compromised.
Shiny New Stuff
Bright Cellars
There's Barkbox for dogs, and Birchbox for cosmetic samples, and now there's Bright Cellars for a monthly wine box with a clever algorithm.
Refind
Helpful new content curation tool
Instant Google Drive
These URLs act as shortcuts to create new Google Docs, Slides, Sheets, etc. This works inside any browser or operating system and it effectively creates and opens a new Google Document inside your open/active Google account.
2018 Holiday Insights
Billions of data points across Adobe Experience Cloud are analyzed to bring you the most comprehensive and accurate insights for online retail and e-commerce.
Trump's Favorite Things – A New Randy Rainbow Parody Song
Politics
The brilliant Randy Rainbow is at it again. He parodies "These Are A Few of My Favorite Things" in a raucous "Trump's Favorite Things" parodies.Link one
Rudy Giuliani Doesn't Know How Hyperlinks Work
Typos are not anti-Trump attacks.
Pro Tips
Writing for screens
Writing content that will be read off a screen – whether it's computer, tablet or phone – is different than writing for a printed page. People skim online. These simple rules make your content easy to read online.
Ten words to a sentence.
Two sentences to a paragraph.
Use subheads every two grafs
Include your keyword in the headline and the first paragraph.
Claim Your LinkedIn URL
Don't leave the ugly default URL for your LinkedIn profile.
The Daily Numbers
Of the 1,006 US digital buyers surveyed in a June 2018 study from Yes Lifecycle, just 9% of respondents said they don't ignore emails from retailers.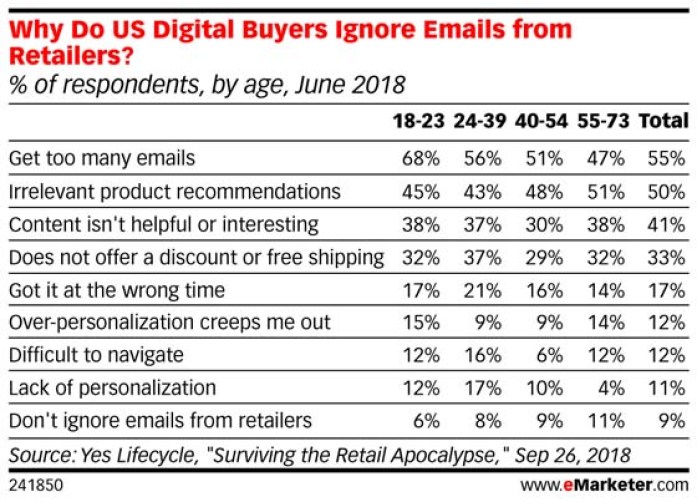 Beyond Social Media Hosts
Beyond Social Media Show
Podcast: Play in new window | Download