Posts Tagged 'Suicide Prevention'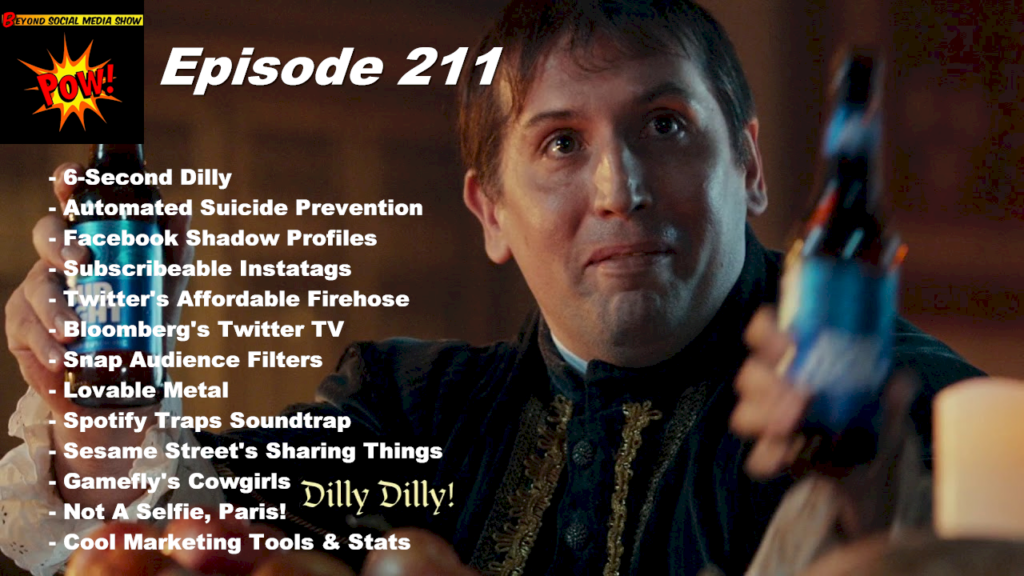 Episode 211: David Erickson discussed the Bud Light Dilly Dilly commercial that ran during the Thanksgiving Day NFL game; Bloomberg's imminent launch of its 24-hour news network on Twitter; Facebook's suicide ideation AI; Facebook Shadow Profiles; Instagram subscribeable hashtags; Twitter's affordable firehose; Snapchat's new Audience Filters; the love of heavy metal music; Spotify's ambitions to become a music label with the acquisition of Soundtrap; Sesame Street's culturejacking of Stranger Things 2 with its Sharing Things parody video; Gamefly's ridiculous cowgirls commercial; Paris Hilton's false claim of inventing the selfie; plus great new apps and stats you should know…and much, much more.
Read More
Co-hosts B.L. Ochman & David Erickson discussed the National Hockey League's decision to ban the Periscope and Meerkat live video streaming apps from their games; the Android logo pissing on the Apple logo discovered in Google Maps; Coca-Cola's Earth Day tweets; Facebook's new newsfeed algorithm; the Twizzler Challenge; brands embracing pot culture; a suicide prevention effort; kids attacking Dunkin Donuts; artificially intelligent toys; Kinect's improved motion-detection technology; plus great new apps and important stats and a lot of stuff in between.
Read More