Posts Tagged 'Lindsay Graham'
BL and David discuss NASA's space toilet and Estée Lauder's cosmic product shoot; Google's plan to pay publishers; Cloudflare's service to speed up WordPress sites; Google Assistant will sit on hold for you; the paparazzi turn to social media stars (who knew?); Ring's home surveillance drone; Russian hackers breach federal agencies; the Los Angeles Police Department's citizen surveillance system; Twitter's racist crop;…and much, much more.
Read More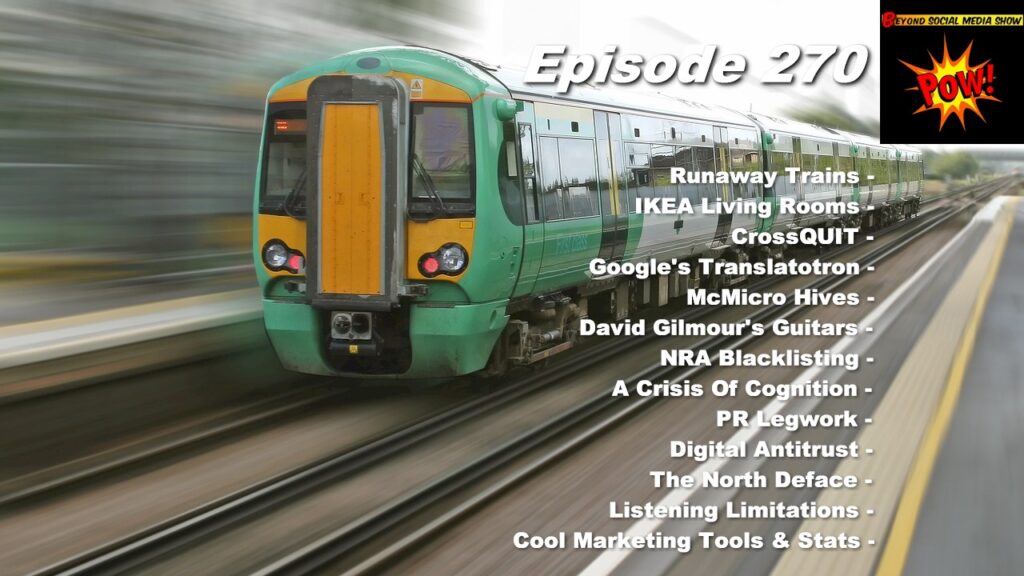 Episode 270: BL and David discuss the geo-targeted update of Soul Asylum's hit song Runaway Train devoted to the discovery of missing kids; IKEA's recreation of living rooms from The Simpsons, Friends & Stranger Things; Crossfit's Facebook pause; Google's Translatotron technology; Tiny replica McDonald's bee hives; David Gilmour's podcast series telling the backstory of three of his famous guitars; Guns Down America's challenge to blacklist the NRA; Jeff Jarvis' superb essay about our Crisis of Cognition; PR pros need to do the legwork; Antitrust investigations heating up for Amazon, Apple, Facebook and Google; Google's suspicious outage; The North Face's disastrous black hat SEO tactic; the limitations of social listening;…and much, much more.
Read More