Posts Tagged 'White supremacists'
Episode 198: Co-hosts B.L. Ochman and David Erickson discussed the Vice News documentary about the Charlottesville domestic terror attack; Josh Bernoff's Pro Bono Pledge; BuzzFeed's new live show; how to lampoon racists and Nazis; a treasure trove of digitized vintage vinyl records; Google Home's new calling feature; airport fashion; Proctor & Gamble's new The Talk commercial; 3D printed hands; livestreaming crossword help; tigers banned from Tinder; ancient emojis; a Planetary Protection Officer update; the #PutinShirtlessChallenge; Amazon's secret brands; Twitter's senstive content algorithm; Facebook copycatting; plus great new apps and stats you should know…and much, much more.
Read More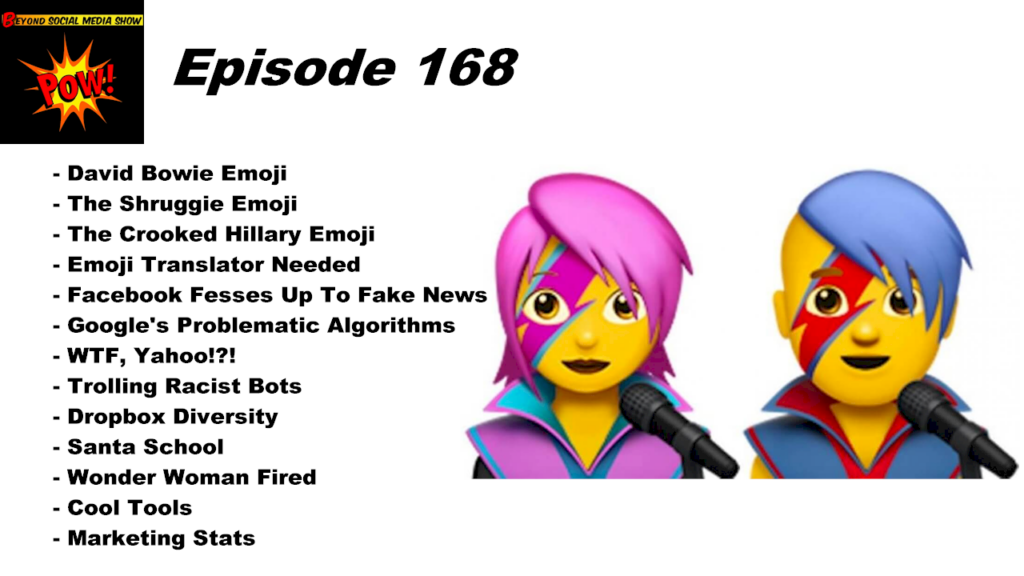 Episode 168: BL and David discuss Bowie, Shruggie and Crooked Hillary emojis; the battle to break fake news; Google declines to remove hate news; Facebook admits it needs human editors; @ImposterBot fights off hateful troll bots; how Santa Claus learns marketing; Yahoo's super-late hack disclosures; Wonder Woman fired by UN; tech titans meet Trumplethinskin. Plus great new apps and stats you should know.
Read More