Posts Tagged 'Microsoft Kinect'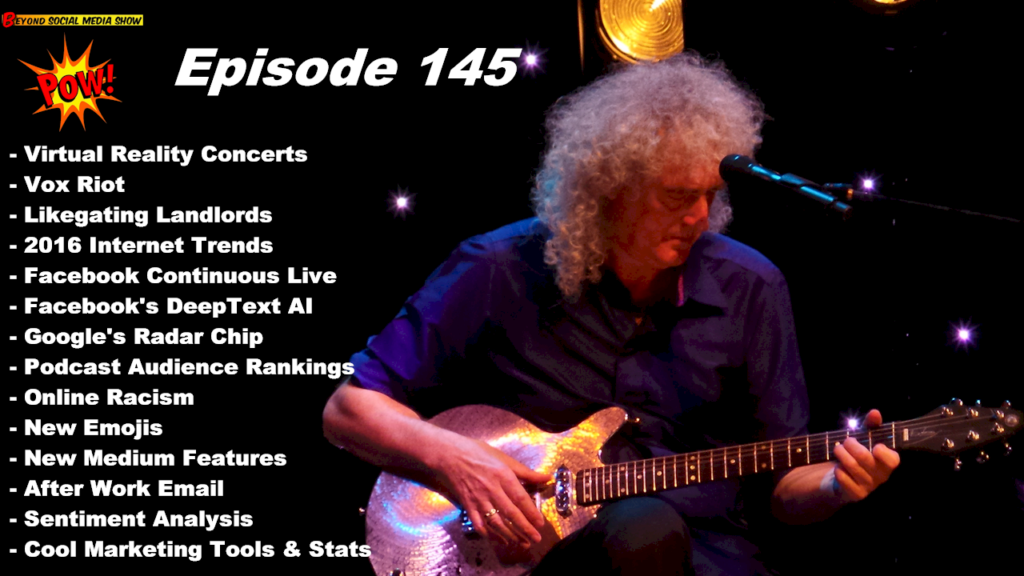 Episode 145: BL and David discuss Queen guitarist Brian May's new virtual reality headset; Google's Project Soli reducing radar to fit on a computer chip; Mary Meeker's new Internet Trends report; a Vox editor endorsing anti-Donald Trump riots; Facebook's DeepText AI; a racist Chinese detergent ad; Facebook's continuous live stream video; a Google Chrome extension used by white supremacists; Podtrac's podcast audience ratings; landlords likegating their tenants; faive new Medium features; Airtime's relaunch; France banning after work email; a new set of emojis; and much, much more.
Read More
Co-hosts B.L. Ochman & David Erickson discussed the National Hockey League's decision to ban the Periscope and Meerkat live video streaming apps from their games; the Android logo pissing on the Apple logo discovered in Google Maps; Coca-Cola's Earth Day tweets; Facebook's new newsfeed algorithm; the Twizzler Challenge; brands embracing pot culture; a suicide prevention effort; kids attacking Dunkin Donuts; artificially intelligent toys; Kinect's improved motion-detection technology; plus great new apps and important stats and a lot of stuff in between.
Read More