Dueling Town Hall Ratings
Episode 327 - October 17, 2020
Zoom Zaps
Google Analytics 4
No Politics Policy
Town Hall Ratings
Hacking Pays
Echo Notifies
Ancient Recipes
LiDAR Lenses
We're Not Okay
Funeral Home Flyers
Cord Cutters
Thirty-five apps will be integrated into Zoom. These include Asana, Dropbox, Salesforce, Slack, Survey Monkey, Unsplash and Zen Desk. Developers will be able to create new ones.
The new Google Analytics will give you the essential insights you need to be ready for what's next.
6 Months Pay To Quit Coinbase
"Life is too short to work at a company that you aren't excited about," Coinbase CEO Brian Armstrong wrote in an email to employees after many objected to his controversial new policy banning political activism by employees.
This morning, when early TV ratings numbers were released for President Donald Trump's and former Vice President Joe Biden's competing Thursday-night town halls on, respectively, NBC and ABC, Biden was beating Trump.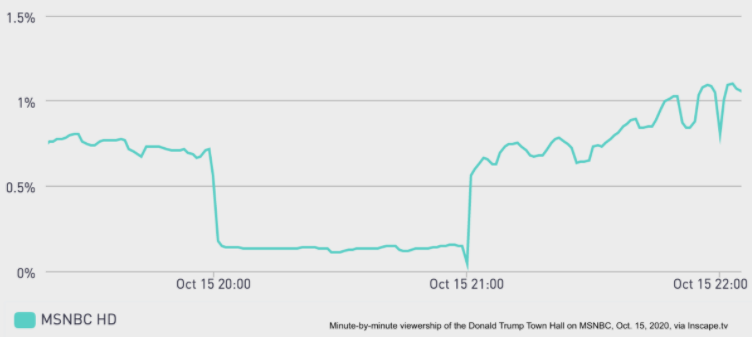 In response to Apple's Bug Bounty challenge, 20 year-old and a team of white hat hackers found 55 vulnerabilities.
Echo's yellow ring means you've got an audio notification.
10,700 Vintage Cookbooks Digitized
The collection contains everything from cookbooks by Martha Stewart to the oldest one, dated 1529.
Snapchat confirmed it will be among the first to put the new technology to use in its iOS app for a lidar-powered Lens.
Researchers are looking at online behavior to gauge public mental health. The results aren't pretty.
An Italian funeral home handed out flyers advertising its services at a 'March of Liberation' rally for COVID-deniers in Rome.
Google Search is an important and growing way to find podcasts. Today we're introducing a new feature to help podcasters understand how listeners discover their content on Search. Check it out in Podcasts Manager ⇒ https://t.co/ejDUvAe9fe

— Google Webmasters (@googlewmc) October 13, 2020
The Yoast SEO WordPress plugin will now feature tight integration with SEMrush's extensive keyword database and SEO products.
Demonstrated his mental decline, trump referred to his henchman Matt Gaetz as Rick Gates three times during a campaign rally.
Simple Words & Short Sentences

Podcast: Play in new window | Download