Episode 311 - June 11, 2020
Twitter Says Read Before You Tweet
Twitter Lists Get Cover Photos
Google Gives News Grants
Email Engagement Behavior
Adopting Dogs By Zoom
KSTP TV's Nightcast
LEGO Maniacs
Jason Calacanis Wants A New Facebook
P&G: It's Time to be Anti-Racist
Google Scrolls Your Page
Twitter's Trump Fail
Google Cheapskate Ad Credits
Email Signature Objectives
Twitter says Sharing an article can spark conversation, so you may want to read it before you Tweet it.
Sharing an article can spark conversation, so you may want to read it before you Tweet it.

To help promote informed discussion, we're testing a new prompt on Android –– when you Retweet an article that you haven't opened on Twitter, we may ask if you'd like to open it first.

— Twitter Support (@TwitterSupport) June 10, 2020
Twitter Lists Get Banners
Now you can add a custom banner to sit atop your Twitter lists.
Google Supports Local News
Google is giving 5,300 local newsrooms around the world grants of $5,000 - $30,00 to survive the pandemic.
Campaign Monitor surveyed 400 consumers on how they want to engage with brands through email.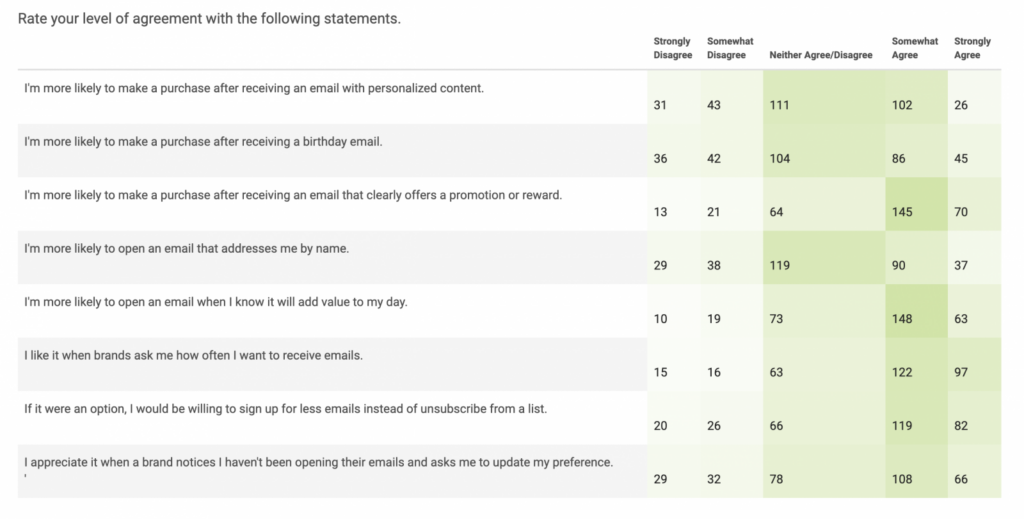 Pedigree is teaming up with shelters to have video chats where you can meet and adopt a dog.
Longer Form KSTP TV Newscast
KSTP TV in Minneapolis has begun to produce five to six four-minute segments rather than the twenty-plus brief headlines stuffed into a half-hour broadcast for their 10 pm slot.
The Brick Wall makes videos of their outrageous LEGO creations, including machines that make tacos, fruit plates and potatoes.
Jason Calacanis: Quit Facebook!
Startup investor Jason Calacanis urged Facebook and Instagram users to leave the social media platforms and announced plans to fund alternatives.
turn off all your posts on Facecbook
turn off all your posts on instagram

I'm ghosting myself and I'm gonna fund folks to replace both platforms. https://t.co/QdQ7E4Iv5f

— jason@calacanis.com (@Jason) June 1, 2020
P&G: It's Time to be Anti-Racist
Procter & Gamble continues its "Take on Race" initiative with an introspective call to action aimed at people who don't usually speak up about systemic racism and police violence.
Google will now automatically scroll to relevant sections of your webpage for some search engine visitors.
As we have done with AMP pages since December 2018, clicking on a featured snippet now takes users to the exact text highlighted for HTML pages, when we can confidently determine where the text is, for browsers that support the underlying technology….

— Google SearchLiaison (@searchliaison) June 3, 2020
Twitter #FAILs On Trump Tweets
54% of Americans favor Twitter flagging trump Tweets.
Travel companies that have been devastated by the coronavirus pandemic are calling for Google to do more.
Neutral - A browser extension that shows the environmental impact of your purchases.
Hashtag Tracker - Free hashtag tracking tools to monitor hashtag performance
WordPress Warnings - WordPress now tells you to visit your website and check for any visible issues.
Interview With Katsura Sunshine
BL interviews the only non-Japanese Master of the ancient art of comedic Rakugo storytelling in the last 100 years.
Anti-Trump ads by three brothers -  an attorney for Colin Kaepernick, an editor for Ellen and an agency pro - are generating views by the millions.
Citizen Journalism Covers Police Brutality
A group of activist researchers have committed themselves to a major challenge: collecting as many videos of alleged police misconduct during the protests as possible.
What Marketers Want To Get From Their Email Signatures
66% say they rely on their corporate email as their main source of interaction with customers and prospects.